A day before we left Bissau for the Gambia, captain informed us that the trip would take about 5 hours. I automatically doubled that and then added on a couple of hours. The last time we thought a trip would take a couple of hours, we ended up spending two days on the road. But this time, it took:
7 hours including getting stamped out of Guinea-Bissau,
Getting stamped into Senegal and out of Senegal
Dealing with anal officers at the Gambian border before getting stamped in
This has been our shortest trip since we left Nigeria for Benin Republic and the first time we are not arriving in a city after sunset. Here's what made all the difference – good roads.
All the way from Bissau, through Senegal and into the Gambia is a stretch of gloriously tarred highways. There are some rough patches here and there, and a couple of potholes here and there, but for the most part it's just good roads. So good that it felt odd not being thrown out of my seat as I had gotten accustomed to.

Why did we go through Senegal?
Because there's no other way. Unlike the Liberian situation that found us going through Guinea first to get into Liberia because the only direct route was an unmotorable road, the only way to get into The Gambia by road, is to go through Senegal first. If you take a look at the map you'd see that the Gambia is a really tiny country nestled within the Senegal region. It's no surprise since both countries used to be a single region before the whites struck. What's really interesting though is how different they are.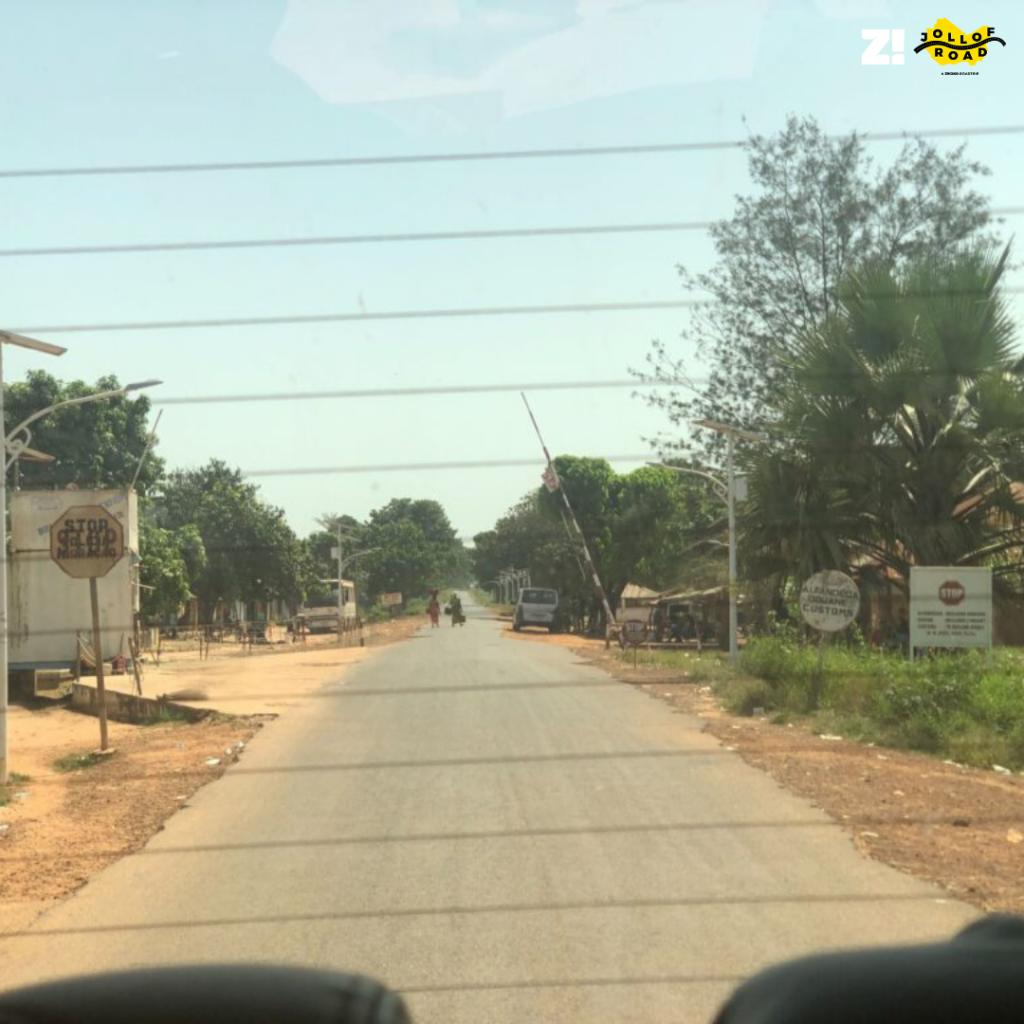 While The Gambia is Anglophone, Senegal is Francophone. And while Senegal uses CFAs, Gambia uses their own currency – The Dalasis.

We are a serious country and you'll treat us as such.
With a population of 2 million people, Gambia is the second smallest country we've been to with one of the youngest government's in Africa. Guinea Bissau is the smallest we've been to so far.

With a total area of 11,295 km2, it's literally the smallest country in Africa. But they are a country regardless and that's a fact that the immigration officers at the border seemed to want to prove yesterday. For the first time since we got on the trip ( this trip had a lot of firsts) we had an immigration officer tell us to our faces that he was going to deny us entry into the country based off the fact that he didn't trust our motives despite the fact that we had ECOWAS passports, the only document you need to travel through West Africa.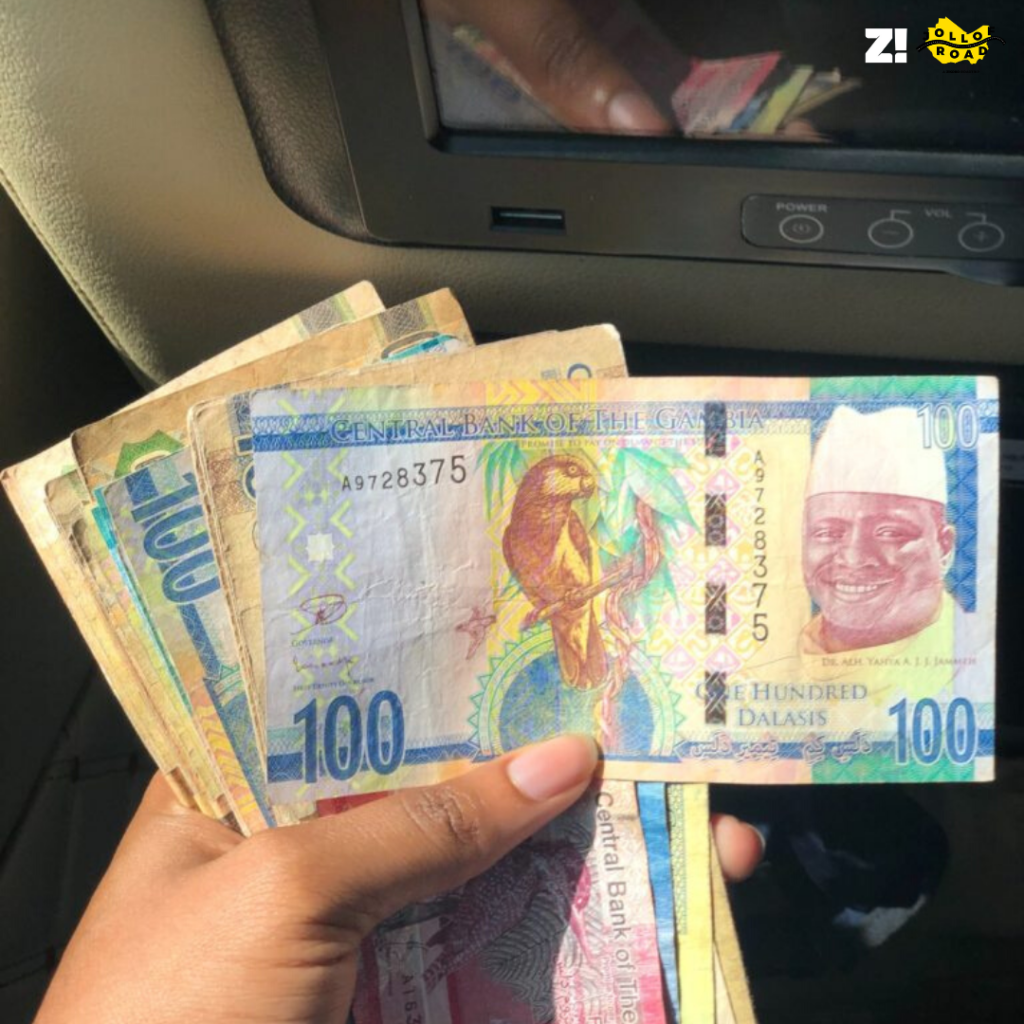 Since we didn't get the names of the immigration officers, I'm going to give them the most descriptive names I can think of – Blinky and No Neck.

The hullabaloo started with Blinky. After taking a look at our passports and glancing at us with barely concealed disdain, he asked us our mission. We explained we were touring West Africa to which he replied for what purpose? "explore, see, take it all in" we replied. He eyed us, flicked through another passport and declared he wasn't convinced.

"Where are you going to be staying?"

"Plaza Hotel"

"Where is that?"

"Banjul?"

"Where in Banjul?"

"Seaside road"

"How long are you staying?"

"Just a couple of days"

"Hmmm"

"You are required to prove you have sufficient money to support yourselves before we can let you into The Gambia".

Up until his last statement the line of questioning between us and Blinky though more hostile than we were used to had been standard. At almost every border, the standard questions had been – "What's the purpose of your visit?" "How long are you staying?" and "Where are you staying?"

We had never been asked to prove that we had enough money to sustain ourselves. We were completely thrown, so I asked if this was standard protocol and if there was a stipulated amount of money we were required to have. This enraged Blinky because he thought I was insinuating he wanted a bribe. He became even ruder and more disdainful, which I hadn't thought possible. He began to rant about how even though ECOWAS laws say we can enter Gambia with our passport, Gambian laws supersede ECOWAS laws and he had the prerogative to tow his current line of questioning. At this point Blinky's voice was raised and had now attracted the attention of No Neck. No Neck came to Blinky's aid to further explain the money rule. He told us that people came into their country all the time under the guise of being tourists and refused to leave.

"They come here, become riff-raffs and thieves and never leave. You know, Nigerians, err Guineans other people not just Nigerians".

Despite his clumsy attempt to mask the intention behind his statement. It was clear that No Neck had very little regard for Nigerians. I went on to ask again if there was a stipulated amount of money we are supposed to have. Blinky said enough for tickets to 'eject us' out of the country. I replied that we were travelling in a bus and he got a little more agitated. An immigration officer who had been throwing us sympathetic looks suggested we showed our ATM cards if we didn't have cash. I brought out the ATM cards and tried to hand them to Blinky as I asked again what the provision of their laws were on the stipulated amount of cash to have.

Blinky barked at me to keep my ATM cards. At the same time, No Neck tackled Fu'ad about his hands in his pocket. Then I heard Blinky say, "You say you are tourists, tourists should have at least $5,000 in cash."

I was just about to reply when No Neck told Fu'ad again to take his hands out of his pocket and put his phone on the table.

"Are you recording?" he asked.

Fu'ad said no and took out his hands.

"And what's your profession?"

"We are Journalists."

Fu'ad's hands found their way back to his pockets and we were not sure if it was that or the fact that we were Nigerians or journalists that made No Neck declare that he couldn't let us into The Gambia.

"No, no, no," he said. "I don't trust you people, you are not getting in." and he walked away.

We all looked at him amused. It was clear he had no final authority on the issue so we knew what to make of his huffing and puffing. Blinky eventually went to get his supervisor who came and asked the same set of questions. Except the one about how much money we had. When he was done, he stepped out with Blinky and No Neck.

Blinky popped back in a couple of minutes later with a friendlier demeanour. He asked for Fu'ad to come with him, they were gone for two minutes and then they returned and cheerily declared that we had been granted entry.

As Blinky stamped the passports, he tried to make jokes and chat. Tosin indulged him, I didn't. As we left, he joked that we should include him the 'stubborn' immigration officer in whatever we wrote. I said I'd be sure to.