Chill, I'll get to the python part.
I need to tell you about how the morning went. It starts at the Diaspora Hotel where complimentary breakfast is two mini french loaves and a cup of coffee.
"This food won't cut it."
Kayode's the first to say it and everyone agrees. But life must go on. So we do a few morning things and head out. Whatever will cut it will have to come later.
Our first stop for the day is The Door of No Return.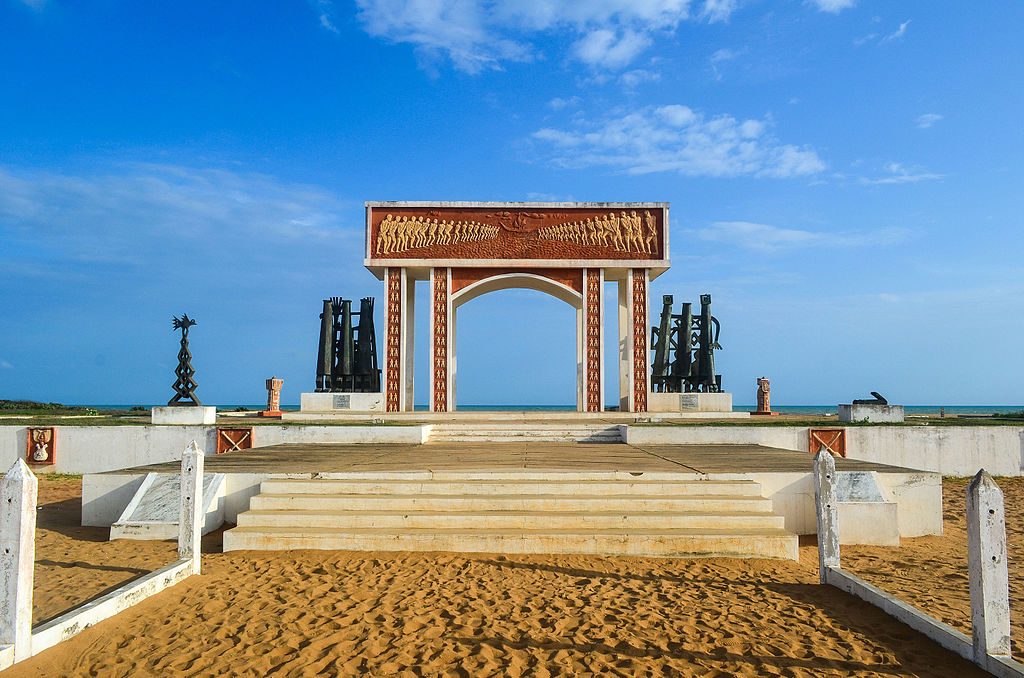 It's a monument marking the place where free people took a last look at their homeland before they were loaded into ships, and taken to go work plantations across the ocean as slaves.
Frankly, I didn't imagine I'd feel any type of way. But the longer you spend there, the more each gust of wind forces you to imagine things. You start to wonder how it must have felt. The fear didn't begin at the ocean itself. It began when, as the people were marched in chains, they began to feel the wind of the ocean, and knew that their fate was close.
"If I try to escape, will they catch me?"
"Maybe this is a dream and I'm going to wake up."
"Our ancestors have forsaken us."
"Why me?"
It's interesting, how these people were taken away by force. Now, everyone wants to leave by any means necessary.
Eventually – after all our sighing and pondering – we head to our next stop. But not before we've done a small ritual.
"We need to give this bus a name," I say. "Something endearing."
"Ojukwu," Kayode says. I look at the bus, and the bus doesn't look like the name fits.
"Fu'ad 2," Tosin says. Next.
"GIGM," Captain Taiwo says while wearing a GIGM.com uniform.
"Black," Toke says. Everyone likes it.
Our next stop is less than 20 minutes away, in a place where there are more snakes than I'd like to ever cross in my entire life. Pythons Temple. Temple of Pythons. But first, some context.
Rewind back to the time before I could remember, where my mum says I probably dreamt of a snake one time as a child because I woke up screaming snake! Snake!
Bring it back a little closer to when I was a teenager freaking out over a few encounters with snakes in boarding school.
A few memories closer, and we have me folding in a chair or clenching my bum every time I see a snake video.
But here I was, walking with my own legs into a compound with over twenty pythons. Neat.
"This place is sacred something-something." Nothing our tour guide Ojo says, matters at this point. My eyes are on the little hut with all the snakes. He says more about festivals in February. About virgins. About goats and goat blood. About Ogun, the god of Iron who also has a reputation in Nigeria and Brazil. He talks about followers of voodoo and their tribal marks – two on the forehead, and either cheek.
The clock strikes why-am-I-doing-this-to-myself o'clock when the Ojo hands me a python. A whole ass python.
"It won't bite, Fu'ad," I tell myself. "Ojo says the python has no fangs and is super chill."
"But," inner Fu'ad interrupts, "what if it tries to squeeze you? What if the reason it's now trying to go to the back of your neck is so it can take you by surprise and strike? I mean, what if it really did grow fangs overnight?"
But inner Fu'ad is a liar, and I slowly get used to it as this animal, almost 100% muscle, slithers along my back. It feels like a tender massage – I haven't had that in a long time. Are there snake spas? They'd make a killing.
"Is it slimy?" Toke asks. It's not. The skin is only glistening in the sun. I'm patting the head of the python now, and it seems to like it.
"No, a little more," I tell Ojo when he tries to take the python off my neck. I can get used to this.
This is the part where I'm supposed to give moral lessons about facing your fears. Lies. The snakes at Ouidah are Royal Pythons, they have a reputation for being docile, fangless and venomless. Their energy goes into hunting down rats and chickens. There really is nothing to be scared of, so no fears to face. Will I wait when I see a King Cobra fifty metres away from me?
Find out on the next episode of Fu'ad meets snake. Now, time for everyone else.
"I'm not putting it on my neck please," Toke protests, "but I can hold it."
Kayode puts it on his neck and looks like a gangster. Tosin stands in the distance and says no, thank you. Captain Taiwo won't even come in because he eats snake meat and he doesn't want the pythons somehow detecting and getting pissed.
A short while after and we're on our way and back on the road again. Our next stop is Grand Popo, a small town where we'll be spending the night.
We find soft beds at the hotel, Auberge Popo, and I take in the environment as Tosin bargains for rooms like you'd bargain for Tomato at a market. A blessing she is.
Built in 1939, it looks like something out of a movie about colonial times. You can hear waves crashing very close to the lodge.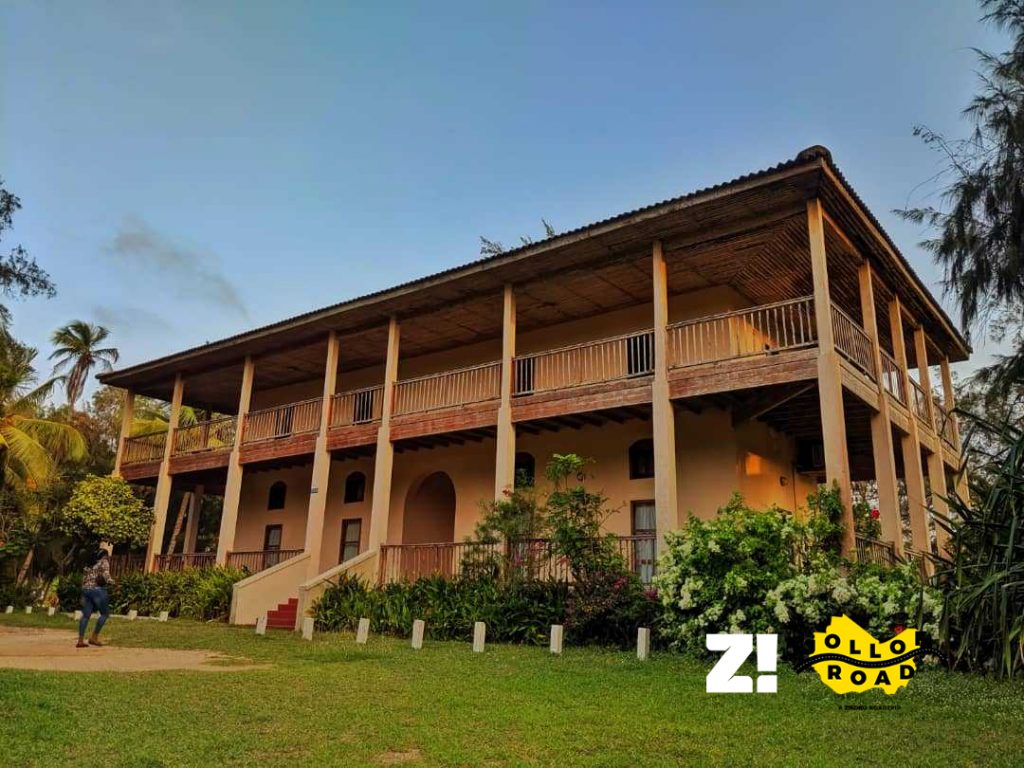 "The water used to be about 1km away when it was built," the manager says in French, but merci Tosin.
Now, the water is just about 100 metres away. There's a lesson about Climate Change there.
While Tosin is bargaining, the price starts to rise somehow, because even though the booking was already done online, it didn't take into account weird charges like tax, and ATM card charges.
We take the place anyway. It really is beautiful. How do you even finesse regular bulbs, woven baskets, Ankara fabrics, and blue ribbons? Like this.
So here we are, sleeping in a building about the age of my late grandma. With a small monument marked 'Aux Enfants' that looks like a grave. Floorboards that creak when you walk on them, and the perpetual sound of crashing waves. All the trappings of a haunted house.
If you don't hear from us, perhaps a ghost who only speaks merci and oui-oui has held us hostage. But don't worry, we'll strike a deal somehow – Tosin speaks impeccable french anyway.