The most recurring question we've gotten in the 42 days we've been on the road, has been so who has the best Jollof yet? This question is usually followed by a bold proclamation from the locals in whatever country we are in about how they have the best Jollof. And that, in turn, is immediately followed by Nigerian Jollof slander.
In all of the seven countries we've visited so far, one thing is clear, the only people who rate Nigerian Jollof are Nigerians. On everyone's list, their country Jollof comes first followed grudgingly by the Jollof in some neighbouring country or very often Sene-Gambia Jollof. Of course, the disregard for Nigerian Jollof befuddles me. I mean have they had party Jollof? Or better still, burial Jollof? What's the root of this slander? Envy? I asked everyone who had a beef with Nigerian Jollof what the exact problem was. And this is a comprehensive list of everything that's apparently wrong with Nigerian Jollof according to Ghanaians, Togolese, Beninese, Ivorians, Liberians, Sierra Leoneans, Gambians, and Guineans.
It's too plain. How dare you serve rice and just chicken. No sauce, no vegetables, nothing! The travesty.
It's too salty.
The rice grains are wrong how can you use parboiled rice when there's perfumed rice or long-grained rice.
It's just tomato and rice nothing else. Who even does that. How dare you call that Jollof?
You guys don't even own Jollof what makes you think you can cook it well? Pfft.
The only thing going on for it is the big chicken you guys like to put on top.
At the risk of losing my Nigerian citizenship, I'm inclined to agree with some of these points. I'm one of those people who really wouldn't mind a bit of sweet corn or carrots in my Jollof rice. I'm not so far gone as to declare that any of the Jollof I've tasted is better than Nigerian Jollof but these have been my top 3 in no particular order.
Sierra Leonean Fonio Jollof
In Ghana, the super talented Chef Binta invited us to her home to try her very own Man O River Jollof. What made her Jollof unique was the use of Fonio, an ancient tiny grain instead of rice. I've never been a fan of small grains like couscous and quinoa because something about them reminds me of baby food. So I was sceptical at first but by God's grace, it banged harder than anything ice prince has put out since Oleku. She paired the fonio with the most succulent lamb and served it in a large dish for us to eat with our hands. The whole experience was 10/10 will highly recommend.
Senegalese Thieb Blanc
I know we haven't gotten to Senegal yet but we managed to get our hands on some Senegalese Jollof in Ivory Coast. Thanks to a lovely Senegalese woman who thought it'd be a travesty for us to leave town without tasting her Jollof first. She was right. But purists might argue that Thieb Blanc is not quite Jollof. Its sister Thieb Rouge fits more closely into our description of Jollof. However, I see Jollof as an umbrella where they all fit.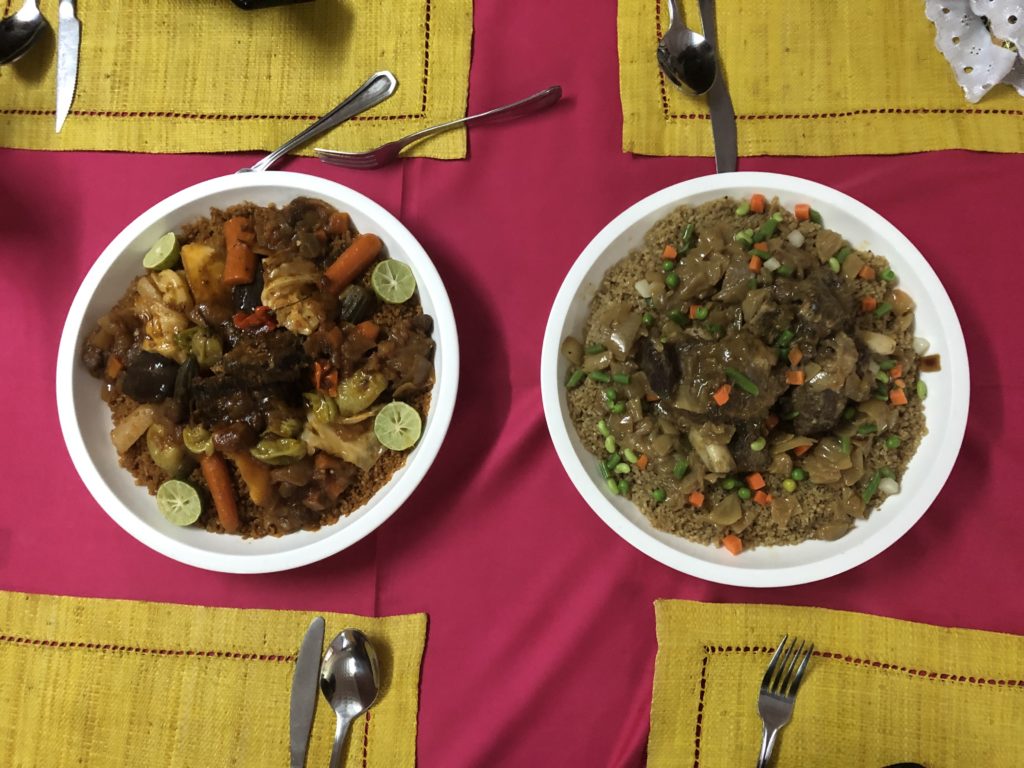 Random musing: Thieb was the original Jollof. So when did it go from being Thieb to Jollof? In Senegal, we'll investigate.
Liberian Jollof
One of the best Jollof we've all had on this trip yet was in a hole in the wall restaurant in Robertsport, Liberia. We had come into Robertsport late and had just sat at the first food place we found. We were all surprised by how good the Jollof was. I chalked it up to the fact that we were starving. When you are hungry anything tastes good. But we went back the next day, partly because of how much we loved the Jollof and mostly because there just aren't that many food places in Robertsport, and the Jollof was just as bomb. It was also the closest thing to Nigerian Jollof we had tasted so far.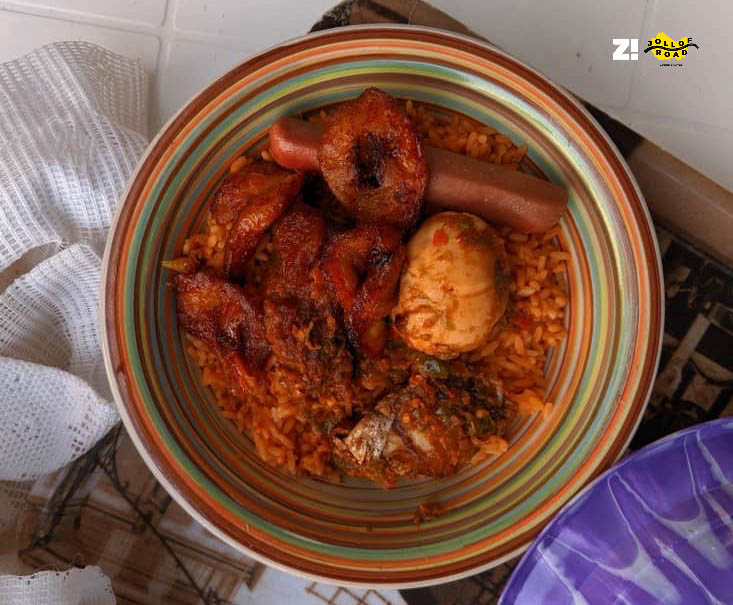 With 7 more countries to go, I'm beyond excited to try all of the many Jollof variations these countries have to offer.